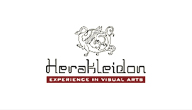 M.C. ESCHER: The Herakleidon Museum collection at the Dalí Museum, U.S.A.
Saturday, August 22nd 2015-Sunday, January 3rd 2016
The Herakleidon Museum collection with works by the famous artist M.C. Escher will travel this summer to the emblematic Dalí Museum in the U.S.A. for the exhibition Escher at the Dalí which will run from August 22nd, 2015 until January 3rd 2016. Nicknamed The Enigma, the Dalí Museum which is located in the heart of beautiful downtown St. Petersburg, Florida, is itself a work of art and was listed by AOL Travel News as "one of the top buildings to see in your lifetime." It features more than 2,000 works comprising nearly 100 oil paintings; over 100 watercolors and drawings; and 1,300 prints, photographs, sculptures and objets d'art.
On loan from the Herakleidon Museum, this exhibition will feature 135 works covering Escher's entire artistic career. The show includes an array of the artist's most famous works such as "Drawing Hands," "Reptiles" and "Waterfall" alongside rarely exhibited early drawings of family members, panoramas of exotic landscapes and historic architecture of Italy and Spain, original preparatory sketches, mezzotints and more. "Escher, like Dalí, played in a serious way with that fundamental question of visual art – What is real? Is the world as it looks to be, or have I constructed an illusion in my mind? Escher delights every viewer with his visual sleights of hand," said Hank Hine, Dalí Museum Executive Director.
In addition, Escher at the Dalí will feature prints, drawings, a sculpture, wood blocks, a lithograph stone, posters drawn by the artist and an enormous woodcut "Metamorphosis" (1939-40) which spans 13-1/2 feet. "Escher's work is captivating on many levels," said Curator of the Collection, Joan Kropf. "His images are realistic but challenging, accessible but elusive, entertaining but serious.
---
The Dalí Museum
One Dalí Boulevard, St. Petersburg, Florida 33701
Τ: (+1) 727 823 3767
www.TheDali.org