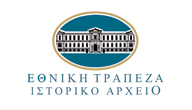 National Bank of Greece
Historical Archives
The Historical Archive organises educational programmes and guided tours designed for students of Primary and Secondary Schools and universities from both the Attiki area and the rest of Greece with the purpose of enhancing awareness among students and the public of the work it carries out, and generating interest in Greece's history, economy, society and culture.
In addition, a pilot programme has also been launched for two infant schools. Various cross-cultural schools, special schools and second-opportunity schools also take part in the Historical Archive's tours and educational programmes.
In the NBG Historical Archive we aspire to:
bring students in touch with archive material and the methods used to process it;
foster greater awareness about the usefulness of indexing and classification and the various applications of collections;
enable children to gain an understanding of the historical and social background of their country, and the relationship between economic and social history.
Visits arranged by schools to our state-of-the-art facilities bring children and students in contact with library science and history. Each visit can be flexibly designed to match the requirements of the school curriculum and the various disciplines taught, helping students gain access to one of Greece's key sources of historical knowledge.
In the case of Junior Schools, our educational materials are designed to encourage children to appreciate the close link between archival documents and understanding history, mythology and art, through the learning programme of the history of the Greek banknote. Our aim is also to encourage an understanding of the concept of historical memory and its preservation in the records, archives and collections through the learning programme "Archives: Sources of knowledge, sources of memory", which explores old documents of the 19th and 20th centuries of the Bank, old photographs, maps, designs, old office equipment and so on.
Our educational programmes for High School children aim to support the general school curriculum in the subjects of History, Economics, Technology, IT, and Career Orientation and also provide a platform for carrying out projects within the framework of the school programme for "inter-disciplinary and innovative actions".

Participation in the above educational programmes is free of charge. To arrange a visit, contact Ms. M. Lebessi, tel. 210.8807799, 210.8807804.