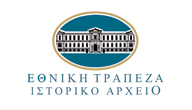 National Bank of Greece
Historical Archives
Exhibitions
The ground floor of the Diomidis Building contains three exhibition spaces, which host the following:
The history of the Greek banknote: A journey 1822-2002. The exhibits on display comprise the most complete collection of Greek banknotes that has ever been available for public viewing. A tour of the Greek banknote exhibition brings to life many interesting aspects of the history of the modern Greek state, while at the same time it provides a wealth of specific information – historical, fiscal, economic –as well as reflecting artistic and aesthetic trends of the times, manufacturing techniques, counterfeiting methods or the ideology of the day, as reflected in the illustrations reproduced on the notes.


The History of National Bank of Greece as reflected in its Archives and Collections. It presents archival material and objects from collections of bonds and debentures, architectural designs of the 19th and 20th centuries, collection of various office machines (typewriters, calculators, telephones and so on), the first share issued by the Bank, the Last Will and Testament of Heinrich Schliemann, material illustrating the Bank's close involvement in crucial moments of Greek history (NBG's contribution to the Greek war effort and to national infrastructure projects), items highlighting the course of the Greek economy and so on.

Security Printing Processes and Machinery. It features printing machines, most of them belonging to the Aspioti-Elka Printing Company (1873-1996), and also specimens and samples taken from various phases in the production of banknotes, stamps, stamp duty stamps, lottery tickets, playing cards, shares, bonds, national bonds, bank cheques, deposit booklets, bills of exchange and so on. The material also includes albums, posters, printing plates, printing proofs and movable printing type.



The exhibitions provide the public with an opportunity to come into contact with original archive documents and important collections, to assess their significance and appreciate the wealth of information contained therein. Indeed, many visitors are surprised to discover documents and collections that they never imagined could exist in a bank archive.