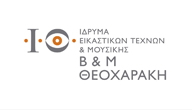 B. & M. Theocharakis Foundation
Lazaros Lameras - Apostolos Fanakidis
13 May 10 - 12 September 10
Place > B & M Theocharakis Foundation
Lazaros Lameras and Apostolos Fanakidis belong to the key figures of modern and contemporary sculpture. In all their works they depict abstract, expressionistic and symbolic trends, which are distinguished by an explosive, while suggestive wording. The aim of this intercourse is the outline of the artistic journey of two great sculptors through a series of emblematic artefacts.

Duration of exhibition: 13 May - 12 September 2010

B & M Theocharakis Foundation for the Fine Arts and Music
9, Vassilissis Sofias Avenue & 1, Merlin Street
106 71 Athens - Greece
T: 210-3611206
F: 210-3611349
E: info@theocharakis-foundation.gr
www.thf.gr

Opening hours:
Monday, Wednesday, Saturday, Sunday: 10:00-18:00
Thursday, Friday: 10:00-22:00
Tuesday: closed

Admission: 6 €, 3 € (concessions)
Free Admission on Mondays.