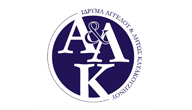 The Angelos and Leto Katakouzenos Foundation

The Angelos and Leto Katakouzenos Foundation is a public, non-profit organisation based at the Katakouzenos House Museum, a historic flat at the heart of Athens. This was the abode of Angelos Katakouzenos, a neurologist-psychiatrist, and his wife Leto, a writer, until the late twentieth century. They were distinguished members of the '1930s generation,' a group of Greek intellectuals, poets, writers and artists active since the interwar period. Their flat became one of the foremost salons litéraires of the era and welcomed illustrious representatives of the '1930s' and later generations. Works of art by artists from Greece and abroad filled its rooms that have been kept intact and remain infused with the atmosphere and details of a period house which is now a museum.
The Foundation organises and hosts cultural meetings (talks, presentations and concerts), contemporary art shows and exhibitions of objects from its reserve collection both within and outside the walls of the Katakouzenos House Museum. Keeping a focus on the half century between 1930 and 1980 and on the '1930s generation,' it aims to research and make openly available its collections and archives through publications and the internet. Since its inception, the Foundation welcomes joint efforts with similarly-minded Greek and international organisations and promotes communication and the exchange of ideas.