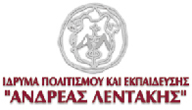 The Fountation of Culture & Education "Andreas Lentakis"

The formation of the "ANDREAS LENTAKIS FOUNDATION OF CULTURE AND EDUCATION" aims at the creation of a nursery for young people to convey the values and the ideas Andreas Lentakis believed in and "emitted" through his life and actions.
The basic purposes of the Foundation include:
The collection, publication and classification of Andreas Lentakis' lifetime work.
The organization of the "Central Library" and the development of the "Center of Research and Justification" using all means of new technology.
The organization of Andreas Lentakis' record office with the help of scientists and researchers.
The production and publication of political, historical, environmental and cultural research.
The organization and fulfillment of educational programs.
The establishment of scholarships to distinguished students.
In order to fulfill his purposes, the "A. Lentakis Foundation of Culture and Education" could take any necessary action in an effort to promote cooperative conditions. This co-operation in required from any public or private conveyors and organizations, including financing of research and publications, organization of congresses, seminars, press conferences, etc.
The direct advisory agents of the Municipal Council of the Foundation are:
The Scientific Committee which gives its opinion on any scientific matter relevant to the promotion of the targets of the Foundation, and
The Committee of Planning which gives its opinion on matters concerning the financial management of the Foundation.