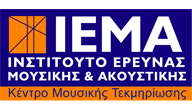 Institute for Research on Music and Acoustics (IEMA)

The Institute for Research on Music and Acoustics (IEMA) - Greek Music Information and Documentation Centre is a non-profit, non-government organization aiming to develop and support research in the field of music and acoustics, support contemporary music creation and provide systematic information, documentation and education in these domains.
Founded in 1989, the Institute is the result of a common initiative from musicians and musicologists who created this organization according to international models. During the last years, IEMA has established a permanent cooperative relationship with the Greek ministries of Culture, Education and Research. It is currently the most active organization involved in music research, information and documentation within Greece and is official recognized as cultural organization by the Ministries of Culture and of Finance.
A continuous strand in IEMA's vision is the use of new research methods and advanced new technology for the Institute's realization of objectives.
The Institute is functioning as "Greek Music Information Center" having a special site dedicated to the Music information (www.musicportal.gr)
One of the main objectives of the Institute is the preservation and promotion of Greek Music.Therefore it has developed the "Digital Archive of Greek Music" covering all kinds of greek music.
Important also is the music-pedagogical activities of IEMA through actions like, music-education seminars, compilations of books and CD-ROMs for the schools and the cooperation in wide national projects like the "Melina-Education and Culture" project.
The Institute is member and representative for Greece on many International organizations like
More about the Institute is available at its website (www.iema.gr) and its information brochure.