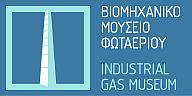 The Industrial Gas Museum opened its doors to the public in 2013. The main objective of the Museum is the promotion and protection of the old Athens Gasworks plant, an industrial heritage monument that supplied energy and lighting in the Athens metropolitan area for 130 years.
The visit to the Industrial Gas Museum includes a museum path with 13 stops in specific areas of the factory. The museum path tour helps the visitor follow the gas production line, admire the mechanical equipment and the old machinery, learn about the role played by the management and workers of the factory, find out about the work conditions and become familiar with terms such as industrial heritage and archaeology.
The Industrial Gas Museum has a rich collection of photographs and archive material as well as audiovisual material, including short films and recorded interviews of factory workers and residents of the area. The museum's collection is further enriched with items from the factory itself as well as interactive applications.
The Industrial Gas Museum is the first industrial museum in Athens. It supplements the museal map of Athens and highlights one of the few surviving industrial heritage monuments of the city.