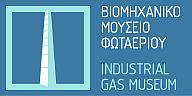 Educational Programmes
Τhe Industrial Gas Museum enriches its existing educational programmes with new ones, related to the theme of the museum, but also to the events that take place in Technopolis, as well as the creation of themed educational programmes. For 2013-2014 we design new educational programmes related to the arts, the entrepreneurship, the industrial heritage, the Renewable Energy Sources, etc.

"The Mystery of gas"
Aimed at preschool age (preschool, toddlers) and the first grade of elementary school (age 4-7 years). "The Mystery of gas" is based on the improvisation techniques and the Educational Drama, in which the participants through role playing, observation and collaboration, are becoming secret agents who are responsible to solve the "mystery gas".

"Children explore the Industrial Gas Museum"
Aimed at families and elementary school children (ages 8-12). The programme introduces the participants to the history and operation of the old plant. Through various activities, students discover the production line, the use and utility of the gas and its importance for the history and development of Athens.
Reservations:
0030 210 3475535, 0030 210 3461589, fax. 0030 210 3413228
Email: gasmuseum@athens-technopolis.gr