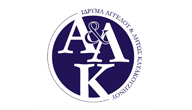 The Angelos and Leto Katakouzenos Foundation
Since its inception, the Angelos and Leto Katakouzenos Foundation has tried to preserve the memory of Angelos and Leto Katakouzenos, to showcase their valuable collection of works of art and their archive and to serve as a source of inspiration for contemporary artists with their lifestyle and way of thinking as an example. Taking as a starting point the painting by Spyros Vassileiou entitled A lagoon for Leto, a work of art created for the glamorous hostess who loved water, the photographer Dimitris Hadjimarinakis has excavated through his travel memories and offers a chronicle of encounters with water, still and gargling, peaceful and full of energy.
The exhibition is part of the Ministry of Culture and Tourism cycle of events Environment and Culture 2010. Water's Thousand Voices.